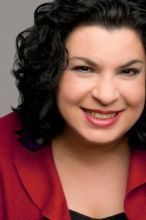 Caterina Rando shows service-based business owners how to build profitable and sustainable companies. A business strategist and coach, she shows entrepreneurs how to succeed by establishing themselves as experts, embracing value based marketing and creating strategic alliance partnerships. Caterina is the creator of the Business Breakthrough Coaching Program designed to accelerate your business' growth.
Caterina is also the founder of PowerDynamics Publishing an organization that creates book that build businesses. She is the best-selling author of Learn to Power Think, published by Chronicle Books and a contributing author Build It Big—101 Secrets of Top Direct Selling Experts, and More Build It Big—101 Secrets of Top Direct Selling Experts.
Caterina has been featured as an expert in best-selling books, including Get Clients Now, Get Slightly Famous, 11 Commandments of Wildly Successful Women, and The NAFE Guide to Starting Your Own Business. She is certified as an Emotional Intelligence in the Workplace Trainer and holds a Master of Arts Degree in Life Transitions Counseling Psychology. Additionally she is a featured entrepreneurship expert on Staples.com and is sponsored by Staples to present in stores and conferences.